When the temperature outside begins to drop, we start reaching for hearty recipes that warm our families from the inside out—and this mulligan stew is our go-to. Mulligan stew is traditionally known as a way to use up leftover meats and vegetables in the fridge, but we like to serve this stew with crunchy peppers and cubed beef brisket. Trust us; it's a hit every time it hits the dinner table.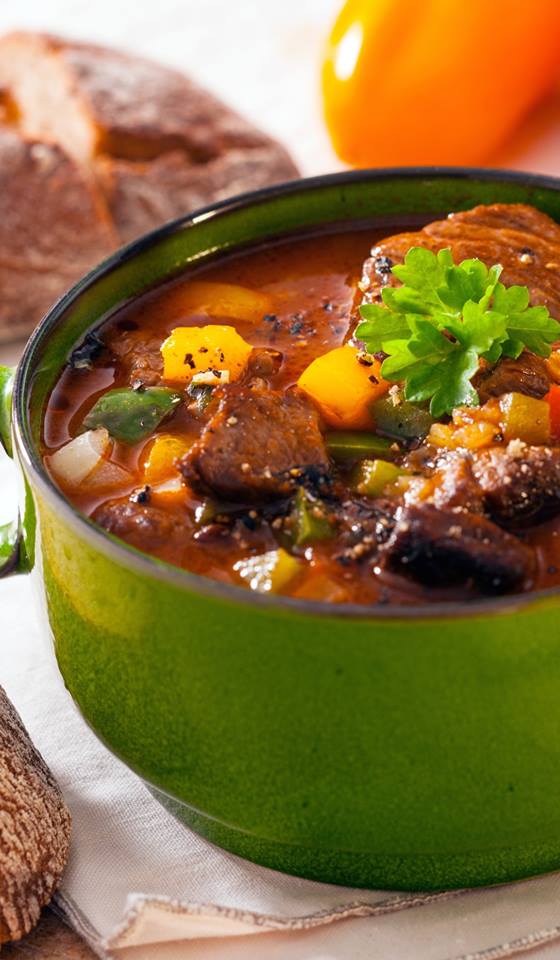 You can prepare this in fewer than two hours on the stove top, or you can use a slow cooker on low to let it cook all day. Be sure to make enough of this filling, hearty stew for leftovers the next day!

Mulligan Stew
1hr 30min to prepare serves 6
INGREDIENTS
2 tablespoons all-purpose flour
1 pound beef brisket, cut into 1-inch cubes with the fat trimmed
1 tablespoon cooking oil
1/2 cup onion, chopped
1 red bell pepper, chopped
1 yellow bell pepper, chopped
1 green bell pepper, chopped
1 1/2 cloves garlic, minced
1 can beef broth
1 can tomato paste
1 cup stout beer
3 potatoes, cubed
3 carrots, cubed
1 tablespoon fresh parsley
PREPARATION
In a large Dutch oven, heat oil over medium-high heat.
Roll the beef cubes in flour and brown them in the oil. Once browned, remove the meat from the pot.
Sauté onion and bell peppers in the remaining oil in the pot until the onions are translucent.
Add minced garlic, beef broth, tomato paste, beer, potatoes and carrots to the pot. Mix in browned beef and green beans, and bring the stew to a boil.
Reduce heat and let stew simmer for at least 1 hour, or until the vegetables are tender.
Garnish each bowl with parsley, if desired. Serve stew with French bread, cornbread or garlic toast.